Nose Injury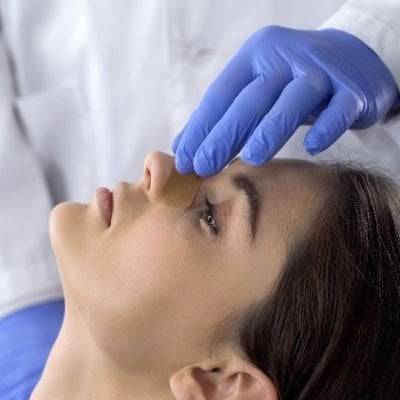 Falls, sports, and recreation activities. Accidents. These can all be causes of nose injuries. Most nose injuries involve bruising, swelling, and pain, whether or not the nose is broken. Applying ice to reduce the swelling and taking an over-the-counter pain medication are usually all required to resolve a typical nose injury. However, it is important to seek medical attention if:
You have a nosebleed that won't stop.
You think your nose is broken.
The skin on your nose is punctured.
The bridge of your nose collapses (a result of a hole in your septum).
You should also seek medical attention if the injury results in difficulty breathing changes your nose's size or shape, or causes ongoing drainage.
Treatment for simple nose fractures (the bone remains in place) is a combination of pain medications, nasal decongestants, and, in some cases, a nose splint. A broken nose must be set once the swelling goes down - usually two to three days after the injury. Antibiotics may also be prescribed for a broken nose to prevent infection.
If you have injured your nose, please get in touch with our office and schedule an appointment with one of our otolaryngologists.
Disclaimer:
The information on this website is provided for educational and information purposes only and is not medical advice. Always consult with a licensed medical provider and follow their recommendations regardless of what you read on this website. If you think you are having a medical emergency, dial 911 or go to the nearest emergency room. Links to other third-party websites are provided for your convenience only. If you decide to access any of the third-party websites, you do so entirely at your own risk and subject to the terms of use for those websites. Neither Edward C. Lee M.D., nor any contributor to this website, makes any representation, express or implied, regarding the information provided on this website or any information you may access on a third-party website using a link. Use of this website does not establish a doctor-patient relationship. If you would like to request an appointment with a health care provider, please call our office at 650-967-1770.