Neck Pain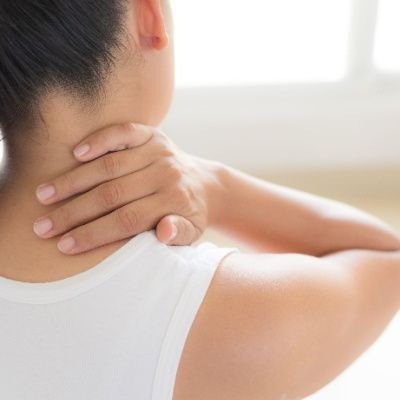 Neck pain is often a result of overuse of the muscles and ligaments in the neck from sports, recreational activities, work, or household chores. It is generally characterized by stiffness, a kink, or severe pain in the neck, shoulders, upper back, and/or arms. Neck pain can also be caused by stress, trauma, or injury or may be a symptom of the flu or meningitis.
A neck strain refers to the pain resulting from a spasm of the muscles or inflammation of the joints in the neck. Shooting pains through the arms, hands, and fingers may indicate a pinched nerve in the neck. Mild neck strains or sprains can be treated with home remedies and over-the-counter medications. More severe cases may require prescription medication, physical therapy, and, in the most severe cases, surgery.
The neck houses and protects the top portion of the spine, known as the cervical spine. It is possible to fracture or dislocate bones in the cervical spine through injury or trauma, leading to paralysis. This type of injury requires immediate medical attention.
If you're suffering from chronic neck pain or have had a neck injury, please get in touch with our office and schedule an appointment with one of our otolaryngologists.
Disclaimer:
The information on this website is provided for educational and information purposes only and is not medical advice. Always consult with a licensed medical provider and follow their recommendations regardless of what you read on this website. If you think you are having a medical emergency, dial 911 or go to the nearest emergency room. Links to other third-party websites are provided for your convenience only. If you decide to access any of the third-party websites, you do so entirely at your own risk and subject to the terms of use for those websites. Neither Edward C. Lee M.D., nor any contributor to this website, makes any representation, express or implied, regarding the information provided on this website or any information you may access on a third-party website using a link. Use of this website does not establish a doctor-patient relationship. If you would like to request an appointment with a health care provider, please call our office at 650-967-1770.